Chestnuts

,

Liyuan

, 5.7 oz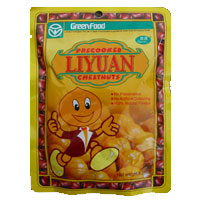 Chestnuts (เกาลัด gaolat in Thai) can be considered to be a super food. Rich in nutrients including calcium, magnesium, iron, zinc, protein and vitamins, chestnuts should be consumed on a regular basis. Long appreciated in both Eastern and Western cuisines, chestnuts can now be more easily consumed year round with the technological innovation of the Liyuan company, which packages the peeled roasted chestnuts in a vacuum packed sachet.
The type of chestnut used by Liyuan is the Tianjin sweet chestnut, which is a specialty of the sierra of the Yanshan Mountains in China. Because the soil is rich in more than 10 varieties of minerals and trace elements such as gold, silver, iron, zinc, and boron, chestnuts grown here are characterized by small and exquisite fruit with a smooth and bright surface. Liyuan has received the certificates of ISO 9002 and Green Food Authentication.

Whole Chestnuts are usually boiled, baked, steamed and are available canned or fresh. Chestnuts have historically been especially appreciated in China and Korea. The chestnuts here are vacuum packed with nitrogen so that they can be stored for up to one year. This snack comes in a resealable pouch. Just pop into your mouth and enjoy this highly nutrition snack.
Chestnuts contain starch, carbohydrates, protein, fat, minerals, vitamins, and lipase (lipase is an enzyme necessary for the absorption and digestion of nutrients in the intestines). As a carbohydrate food, chestnuts are rich in starch and low in sugar but contain less protein in comparison to rice. Each 100g of chestnuts contains 34.5g of carbohydrates and 3.5g of protein. Chestnuts are rich in fat, calcium and vitamins. They contain about four times more Vitamin B1 compared to rice, have the highest level of vitamin C among similar nuts and are also rich in vitamin D.
Chestnuts are a nourishing food that can help prevent colds, relieve fatigue, stimulate growth and development and help to maintain healthy skin.
Ingredients: Chestnuts. Product of China.
Availability: Ships in 2-3 business days from Los Angeles, California.
Category: Asian Snacks
SKU: 1800000425