Crispy Seaweed Snack Tom Yum Goong Flavor

,

Tao Kae Noi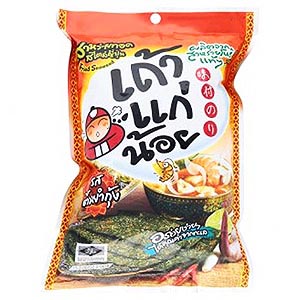 You will love this crispy natural seaweed snack Tom Yum Goong Flavor. With a fresh, natural, crispy and delicious taste, Tao Kae Noi brand Crispy Seaweed Snack is a paper thin sheet of toasted Nori seaweed, like that used for making sushi rolls. This dark green crispy snack is about an inch wide and cut into a variety of lengths.
Tao Kae Noi brand is manufactured in Thailand with the highest quality ingredients and has attained certification in world recognized GMP standard.
Also see Crispy Seaweed Snack Squid Flavor and other flavors.
Ingredients: Seaweed, palm oil, sugar, Tom Yum Flavor, shrimp powder, chili, salt and flavor enhancer. Product of Thailand.
Availability: Ships in 2-3 business days from Los Angeles, California.
Category: Asian Snacks
SKU: 1500000782