Durian Chips

,

Product of Thailand

, 2.6 oz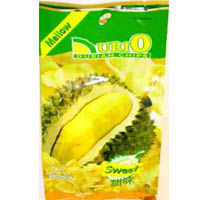 Exotic Durian chips taste better than potato chips! The Durian fruit is world famous for its spiky shape and strong aroma and is known in Thailand as the 'King of Fruits'. These Durian Chips are fried, crispy and delicious. These wonderful chips are made from the monthong variety of Durian because it is preferable, because of the thickness and firmness of its pulp. Highly recommended! Very addictive!
Ingredients: Durian, sugar, palm oil. Product of Thailand.
Availability: Ships in 2-3 business days from Los Angeles, California.
Category: Asian Snacks
SKU: 1500000340