Golden Crispy Coconut Rolls (Thong Muan)

,

Product of Thailand

, 5.3 oz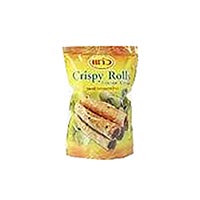 Similar to French piroulines, Golden Crispy Coconut Rolls are made of a batter of rice flour, sweetened coconut milk and black sesame seeds, cooked on a round griddle into a wafer-thin pancake which is then quickly rolled and cooled.
Because thong means gold in Thai, presenting Thong Muan as a gift, is a wish for wealth for the recipient.
Also see Asian Snacks.
Ingredients: Coconut, tapioca flour, sugar and other. No artificial color and preservative added. Product of Thailand.
Availability: Ships in 2-3 business days from Los Angeles, California.
Category: Asian Snacks
SKU: 1500000785