Bubble Tea Tapioca Pearls

,

Product of China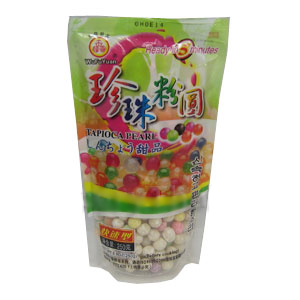 Bubble Tea is a sweet iced drink with the unique addition of a generous spoonful of chewy marble-sized Tapioca Pearls, like the ones offered here.
There are two main types of Bubble Tea - Bubble Milk Tea or Bubble Fruit Tea. Bubble Milk Tea is green or black tea with the addition of milk (often powdered milk). Bubble Fruit Tea is flavored with one or more fresh fruits or fruit-flavored syrups. In either case, Tapioca Pearls are a required addition and these rest at the bottom of the clear plastic dome-lidded cup giving it a unique and somewhat strange appearance. An especially fat straw is necessary equipment to serve the drink.
The Bubble Tea drink phenomenon rapidly penetrated most major world cities in its short two decade history. It's so popular in Asia that the "Starbucks" of Taiwan has over 400 outlets specializing in Bubble Tea. In the Philippines another Boba Tea retailer has over 150 shops. Bubble Tea shops have also appeared in Western cities including New York, Los Angeles, Toronto, London and Sydney. In the 1980's, a Taiwanese tea shop worker, invented Bubble Tea and without the help of a Japanese TV show this tea drink may have faded away. Since then it has become an international beverage.
Bubble Tea does not seem so strange when considered in light of the soupy desserts favored in Chinese culture like red bean soup or substantial drinks like halo halo in the Philippines and Three Colour Drink in Vietnam which adds beans, fruits, and various chewy ingredients. However, the popularity of none of these drinks or foods has matched that of Bubble Tea.
Also see: Boba Tea Black Tapioca Pearl, Boba Milk Tea and Large Pearl Tapioca.
Ingredients: Tapioca starch, Acetylated starch, sodium carboxy methylellulose, guar gum, SDA, water, artificial colors, DHA. Product of China.
Availability: Ships in 2-3 business days from Los Angeles, California.
Category: Beverages
SKU: 1800000371