Foojoy Green Tea (25 bags)

,

Product of China

, 1.76 oz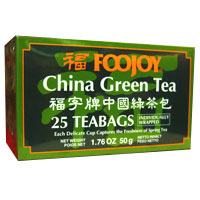 Original green tea imported from China with mild taste and aromatic scent. Green tea is rich in many important nutrient ingredients and has low caffeine. This green tea is suitable for drink anytime and good for relax. One box contains 25 small tea bags.
Ingredients: Green tea. Product of China.
Availability: Ships in 2-3 business days from Los Angeles, California.
Category: Beverages
SKU: 3102000680