Goh Yah Bitter Gourd Tea (Tra Kho Qua) 20 bags

,

Product of Vietnam

, 1.41 oz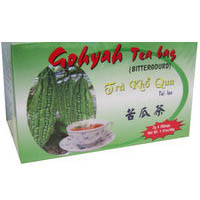 Goh Yah Bitter Gourd (Tra Kho Qua) is produced from Fructus Momordicae Charantiae (Pure Bitter Gourd). Bitter gourd is another healthy drink selected from quality bitter gourds. It is good for kidney and blood system. One pack contains 20 small bags. Product of Vietnam.
Ingredients: Fructus momordicae charantiae (pure bitter gourd), radix glycyrrhizae (Liquorice) and natural flavor. Product of Vietnam.
Availability: Ships in 2-3 business days from Los Angeles, California.
Category: Beverages
SKU: 3102000682