Milo Drink

,

Nestle

, 14 oz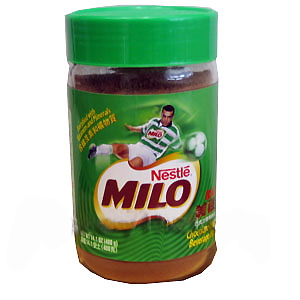 Milo is a milk beverage with chocolate and malt. It is especially popular in Thailand amongst kids but also is a favorite ingredient in Bubble Tea Drinks. The signature drink at the D-Milk Bubble Tea franchise is called Milo Dip, which blends layers of Milo powder throughout the chocolaty icy drink.
Milo drink is now popular worldwide in Asia, Africa and South America. According to Wikipedia it was originally developed in Australia in 1934 and the name comes from the legendary Greek wrestler, Milo of Crotona.
Ingredients: Barley malt extract, nonfat milk, sugar, corn syrup solids, cocoa processed with alkali, milk fat, calcium phosphate, magnesium carbonate, ascorbic acid, sodium phosphate, ferric pyrophosphate (iron), vanillin-an artificial flavor, niacinamide, calcium pantothenate, phridoxine hydrochloride (Vitamin B6) thiamine mononitrate, riboflavin, Vitamin B12. Product of China.
Availability: Ships in 2-3 business days from Los Angeles, California.
Category: Beverages
SKU: 5800000543