NatureGift Coffee Plus

,

Product of Thailand

, 3.9 oz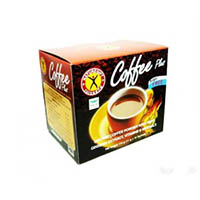 Naturegift Coffee Plus imported from Thailand is and instant coffee powder with ginseng extract. It contains a small amount of caffeine. Also, it helps improving blood circulation, lower cholesterol, balance blood sugar (suitable for diabetes), energy booster, appetite control & weight loss. One box loads 10 small bags.
Ingredients: Non-dairy creamer, Sodium Caseinate, Phosphates, Emulsifiers, Anti-caking agent, coloring, instant coffee powder, oligofructose, Ginseng extract, Aspartame, Acesulfame K, Tri-calcium Phosphate, Vitamin B1, Vitamin B2, Vitamin B3, Vitamin B5, Vitamin B6, Iron Chelate, Zinc Chelate, Manganese and Chromium Chelate. Product of Thailand.
Availability: Ships in 2-3 business days from Los Angeles, California.
Category: Beverages
SKU: 3100000688