Vitamilk Soybean Milk (6 bottles)

,

Vitamilk

, 10.14 fl oz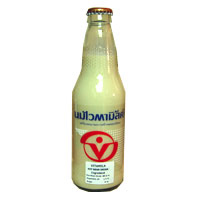 Vitamilk is very thirst quenching beverage, with a creamy sweet taste. It has been Thailand's favorite soymilk for almost 50 years. It can be enjoyed hot or cold. Vitamilk has a long shelf-life and can be kept fresh without refrigeration. Vitamilk in a glass bottle is especially delicious served very cold on a sultry hot day.
Soybean Milk is highly nutritious and is known to reduce the risk of cancer, heart disease and osteoporosis and help control diabetes. Without cholesterol or lactose, Vitamilk is good for those who are lactose intolerant and health conscious.
Ingredients: Soy bean drink, vegetable oil and sugar. Product of Thailand.
Availability: Ships in 2-3 business days from Los Angeles, California.
Category: Beverages
SKU: 5800000424