Chrysanthemum Drink

,

Yeo's

, 44 fl oz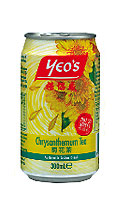 Chrysanthemum Drink (gek houy in Thai) from Yeo's brand is healthy drink made from chrysanthemum flowers. Drink as a cold drink, it is especially refreshing on a hot day.
Chrysanthemum Drink is said to be good for the heart and eyes, curing headaches and calming the mind.
Four cans per order. Also see Yeo's Lychee Drink and Dried Chrysanthemum.
Ingredients: Water, aqueous extract of chrysanthemum, cane sugar and food color. Net weight 11.2 oz.(each can). Product of China.
Availability: Ships in 2-3 business days from Los Angeles, California.
Category: Beverages
SKU: 4440000492