Young Baby Corn

,

Aroy-D

, 15 oz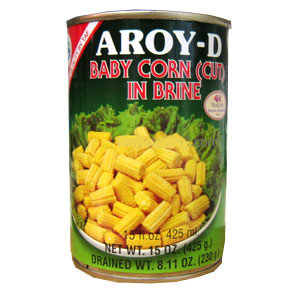 Young Baby Corn (cut in brine) is a colorful and tasty addition to stir-fries, soups and raw in salads. Try it in a Thai Sweet & Sour Chicken. Simply drain and rinse before adding at the last minute to your wok-fried dish. Baby corn is corn ears that are not germinated and grown to full-size. Once opened, store unused portions drained, rinsed with water to cover in a tightly sealed container in the refrigerator for up to one week. Keep a can in your pantry for enlivening your everyday meals.
Ingredients: Young corn, water and salt. Product of Thailand.
Availability: Ships in 2-3 business days from Los Angeles, California.
Category: Canned Food
SKU: 4130000239