Suki Sauce (Cantonese)

,

Pantainorasingh

, 29.0 oz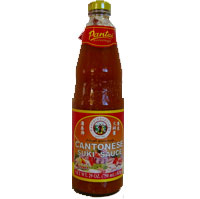 Suki Sauce (also known as Cantonese Sukiyaki Sauce) was created to go with popular Thai-style Sukiyaki (also know as Steamboat, shabu-shabu or hot pot). It is a spicy dipping sauce spiked with hot chilli and lime. Sukiyaki, inspired by Japan, is a communal dish in which fresh ingredients are cooked in a simmering pot of broth at the table.
Popular ingredients for Thai Suki include seafood, red meat, chicken, fish balls, shrimp wontons, fish ravioli and egg. Vegetables range from enoki mushrooms, leeks, carrots, baby corn, napa cabbage, bok choy and morning glory.
Cantonese Suki Sauce from Pantai is enriched with the aromatic flavor of sesame seeds and soy sauce.
Also see Spring Roll Sauce, Pantainorasingh brand.
Ingredients: Water, sugar, garlic, red chilli, soy sauce, salt, sesame oil, white sesame seeds and acetic acid. Product of Thailand.
Availability: Ships in 2-3 business days from Los Angeles, California.
Category: Chili Sauces
SKU: 5168000288