Pla Tu Thai Chili Paste

,

MaeSri

, 4.0 oz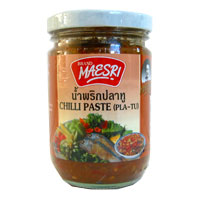 Chili Paste Pla Tu is served with both fresh vegetable and cooked vegetable. This type of Thai chili paste is made with mackerel fish and chilies, making it both very delicious and healthy.
See more Thai Chili Pastes:
Ingredients: Chilli, mackerel fish, shallot, garlic, fish sauce, lime juice, sugar.
Availability: Ships in 2-3 business days from Los Angeles, California.
Category: Chili Pastes
SKU: 5530000354