Chinese-Style Hot & Sour Soup Mix (2 pkg)

,

Knorr

, 1.6 oz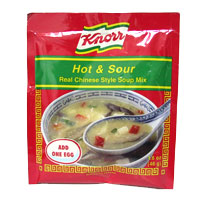 Knorr Hot and Sour Real Chinese Style Soup Mix is easily makes an authentic Chinese-style Soup. It contains all ingredients needed in the tasty soup. Quick, convenient and easy to prepare.
Also see Instant Tofu Miso Soup.
Ingredients: Corn starch, salt, rice flour, soy sauce, monosodium glutamate, vegetables, canola and sesame oil, sugar, citric acid, sydrolyzed protein, and spices. Product of Canada.
Availability: Ships in 2-3 business days from Los Angeles, California.
Category: Convenience Food
SKU: 5160000727