Mung Beans

,

Product of Thailand

, 14 oz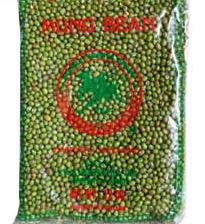 Mung Beans(green gram) are used in Thai desserts and for vegetarian dishes. For a very simple Thai dessert, just boil with sugar and water. Mung beans are very tasty on a cold day and very high in protein. They can also be sprouted for a super-healthy addition to curries. Also see Split Yellow Mung Beans and Black Beans.
Ingredients: Dried whole green mung beans. Product of Thailand.
Availability: Ships in 2-3 business days from Los Angeles, California.
Category: Flour & Sugar
SKU: 1440000400