Rock Sugar

,

Product of China

, 16 oz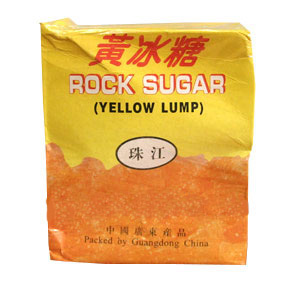 Rock sugar is most commonly used in Chinese cooking. These large pale brown crystals of cane sugar are clear and hard in consitency and also known as rock candy. Not as sweet as granulated sugar, the flavor has no overtones of carmel flavor sometimes present in other sugars. Rock sugar gives a unique flavor and a rich coloring and glossy appearance. Crush before measuring. Add to teas, soups, marinades, sauces and desserts like Black and White Sesame Paste. Rock sugar is also added to herbal treatments for fevers, colds and sore throat.
Store in a cool dry place, well sealed, for up to one year.
Alslo see Palm Sugar which is more frequently used in Thai cooking.
Ingredients: Sugar cane and water. Product of China.
Availability: Ships in 2-3 business days from Los Angeles, California.
Category: Flour & Sugar
SKU: 3600000278