Macaroon Flour Mix (Kanom Ba Bin)

,

Lobo

, 3.50 oz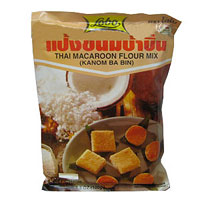 Ready-to-make Thai macaroon flour is used for for making Thai style macaroon (known as Kanom Ba Bin). Ba Bin is Thai dessert which lasts from many decades. With easy steps and has no any complicated ingredient made Kanom Ba Bin is popular from time to time. Shreded coconut is the main ingredient for Kanom Ba Bin going well with sugar to give sweet taste. It is a bit crispy outside and soft inside which is well combination of all ingredients.
Ingredients: Glutinous rice flour, desiccated coconut, whole egg powder and artificial flavor. Product of Thailand.
Availability: Ships in 2-3 business days from Los Angeles, California.
Category: Flour & Sugar
SKU: 1250000584