UFM Pui Fai Flour

,

UFM

, 2.2 lbs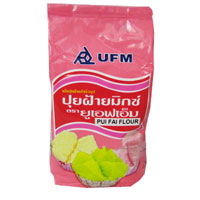 Pui Fai Flour is prepared flour for making Pui Fai (steamed cake). This cake is regarded as one of dessert found in many auspicious ceremonies like wedding, house warming and make a sacrifice to gods among Chinese people during Chinese new year. Pui Fai means "soft as cotton" which is like softcake. There are normally many colors; green, yellow, pink and white. Some Pui Fai recipes mention about adding raisin on top to make better taste.
Ingredients: Wheat flour, sugar, milk, soda bicarbonate, artificial color and emulsifier.
Availability: Ships in 2-3 business days from Los Angeles, California.
Category: Flour & Sugar
SKU: 1250000586