Mama Shrimp Tom Yum (5 pkg)

,

MAMA

, 10.50 oz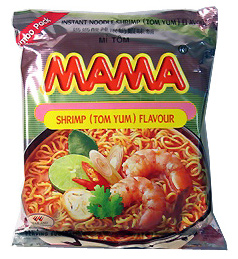 Tom Yum Shrimp Mama Noodles is the most popular flavor of the many types of Mama brand Oriental-Style Instant Noodles. Packaged in a silver foil, this flavor is based on delicious Tom Yum Soup, a type of Thai soup with a sour and spicy taste. Mama Tom Yum is flavored with exotic kaffir lime leaf, lemongrass, chili paste and artificial shrimp flavor. Drops of spicy chili oil float on the top of the hot soup. Add your own shrimp, egg or vegetables as desired for a more complete and satisfying meal or snack.
Noodles are ubiquitous to Thai fast food and the Mama brand of instant noodles are integral to the Thai noodle scene. In fact Mama brand is so popular in Thailand that the brand name is often used on menus in Thailand, for dishes such as Yam Mama (Noodle Salad) or Paht Mama (Fried Mama Noodles). Mama even has its own Facebook fan page!
Because instant noodles are especially economical, appealing to college students and artists, the maker of MAMA, came up with its own economic index, the Mama Noodles Index which accurately forecasted a weakening of the economy in 2005.
To prepare, simply pour 1 cup of hot boiling water over the dry noodles and condiments. Cover the bowl and let stand for 3 minutes before serving.
Mama Noodles are made by the Thai President Foods PLC company, which was established in 1972 and is the largest producer of instant noodles and ramen in Thailand.
Also see Mama Noodles Pork and Mama Pho Sen Lek.
Ingredients: Wheat flour, palm oil, salt, sugar and CMC. Soup base ingredients: kaffir lime leaf powder, lemongrass, powder, sugar, msg, chili paste, chili powder, palm oil and artificial shrimp flavor. Product of Thailand. Total weight 10.5 oz (2.1 oz x 5 pkg)
Availability: Ships in 2-3 business days from Los Angeles, California.
Category: Noodles
SKU: 3560010537