Spinach Flavored Taiwanese Noodles

,

Shin Hsin Fa

, 6.5 oz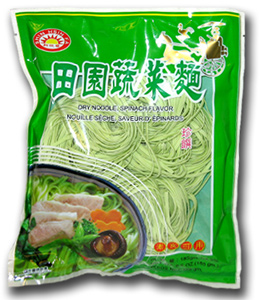 These Taiwanese Wheat Flour Noodles with Spinach Flavor (bai mee yok in Thai) have a mild spinach flavor and are pale green in color, adding an appetizing appearance to your dish. They can be used in place of regular egg noodles to add a unique flavor to the dish they are added to. This type of Taiwanese noodle is very thin and long and generally made with whole-wheat flour and often flavored with yam, green tea, blue-green algae or in this case spinach.
Taiwan is very famous for their beef noodle. See a Taiwanese Beef Noodle Soup recipe at Epicurious.com and also Taiwan-style Cold Noodles.
Cooks in 4-6 minutes in boiling water.
Ingredients: Wheat flour, water, salt, FD&C Yellow #5 and FD&C Blue # 1.
Availability: Ships in 2-3 business days from Los Angeles, California.
Category: Noodles
SKU: 3550000452
UPC: 471985514044