Pad Thai Sauce, 6 pack

,

Por Kwan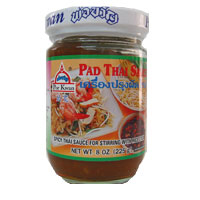 Pad Thai is a popular luncheon or late night supper dish in Thailand. Known throughout the world, Pad Thai is loved for its simple yet exotic blend of rice noodles with dried shrimp and a sweet, tangy peanut-based sauce garnished with bean sprouts and peanuts.
Por Kwan brand Prepared Pad Thai Sauce makes it fool-proof to prepare delicious Pad Thai recipes.This sauce can be also added to pork, beef or shrimp dishes to create an exciting exotic meal.
Store refrigerated once opened up to 3 months.
Also see Por Kwan Pad Thai Sauce.
Ingredients: Hard bean curd, dried shrimp, tamarind paste, vegetable oil, sugar, salt, onion and garlic. Product of Thailand.
Availability: Ships in 2-3 business days from Los Angeles, California.
Category: Sauces & Vinegar, Pad Thai
SKU: 5163310828