Fermented Bean Curd (Tofu)

,

Product of China

, 16 oz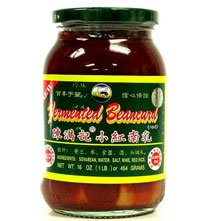 This type of fermented bean curd (เต้าหู้ยี้ tao hu yee in Thai) is also called "red tofu" (fermented with red rice which gives red color) and is imported from China. It provides a strong, salty flavor. Both Chinese and Thai cuisine use this type of bean curd for many kinds of dishes including Suki Sauce, Noodle Soup with Red Sauce (Yen Ta Foh), or can be cooked as a stir-fry with pork or other meats. Some Asian vegetarian recipes also use this type of bean curd as an ingredient.
Ingredients: Soyabean, water, salt, wine and red rice. Product of China.
Availability: Ships in 2-3 business days from Los Angeles, California.
Category: Pickled & Preserved
SKU: 5300000624