Tianjin Preserved Vegetable

,

Lychee

, 11 oz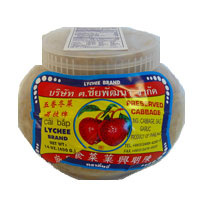 Tianjin Preserved Cabbage (also known as Tianjin preserved vegetable, winter cabbage pickle, preserved cabbage, tung choi or tung tsai) is savory, salty, brownish flakes of preserved vegetable and garlic and are an invaluable addition to the Asian pantry. Traditionally packed in an earthenware jar (but here it is packed in a plastic tub), this Chinese preserved cabbage is added to soups, fried rice, meat, noodles, or vegetable dishes for flavor. Store in a cool, dry place for up to two years unopened or refrigerate up to one year once opened. Product of Thailand.
Ingredients: Cabbage, salt and garlic. Product of Thailand.
Availability: Ships in 2-3 business days from Los Angeles, California.
Category: Pickled & Preserved
SKU: 5350000280