Pickled Ginger (Sweet)

,

AC

, 16 oz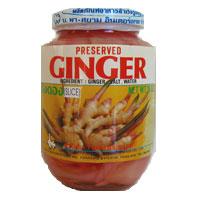 Pickeled Ginger is prepared from plump, pale, yellow and pink young ginger roots (zingiber officinale) preserved by pickling in sweet brine. Eat this sharp condiment with roast duck or other oily foods or serve as a sharp accompaniment to appetizers and snacks to cleanse the palate. Store refrigerated after opening.
Ingredients: Ginger, water, vinegar, sugar and salt. Product of Thailand.
Availability: Ships in 2-3 business days from Los Angeles, California.
Category: Pickled & Preserved
SKU: 5312192029