Seasoned Cockles

,

Smiling Fish (Pla Yim)

, 3.17 oz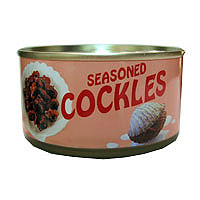 Seasoned Cockles (Hoy Kraing) from Smiling Fish brand is imported from Thailand. This seasoned cockles goes well with rice soup or steamed rice. It is contained in proper can with has easy-lift can lid. Easy to carry out for picnic or camping.
Also see Crispy Baby Clams.
Ingredients: Fried seasoned cockles, soy sauce, sugar, salt, and msg. Product of Thailand.
Availability: Ships in 2-3 business days from Los Angeles, California.
Category: Pickled & Preserved
SKU: 3600000580