Shitake (Dried Black Japanese Mushrooms)

,

Unbranded

, 1.2 oz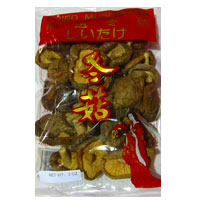 Shitake Mushrooms (Lentinus Edodes, winter mushrooms or dried black mushrooms, เห็ดหอม het hom in Thai) are richer in flavor then most cultivated mushrooms. The caps are brownish and the ribs underneath black. Intensely fragrant when cooked, Chinese cuisine especially appreciates the dried shitake, preferring them over the fresh shitake, because of their stronger flavor. Thai cooks have also adopted them, using in recipes like Oop Woon Sen (Mung Bean Thread Noodles with Baked Shiitake Mushrooms).
Shitakes are said to be an exilir of life, slowing down the aging process. They are high in calcium, phosphorous and contain Vitamin B and D. Shiitake Mushrooms are revered in Asian medicine for their health-promoting effects, effectively boosting the immune system, lowering cholesterol and working as an anticoagulant and is said to be helpful in the treatment of cancer. These dried mushrooms are the perfect addition to a vegetarian meal, because their taste is so satisfying and hearty.
To prepare soak in warm water for about 15 minutes to soften and cut off the tough end of the stem if desired before adding to your dish. The soaking water can be added to soups or stir-fry but strain beforehand to remove any sand.
Store up to one year tightly sealed. Dried Shitake Mushrooms are a required item for a well stocked Asian pantry.
Ingredients: Dried mushroom. Product of Japan.
Availability: Ships in 2-3 business days from Los Angeles, California.
Category: Pickled & Preserved
SKU: 3310142022