Fermented Fish Sauce (Naam Plaa Raa)

,

Pantainorasingh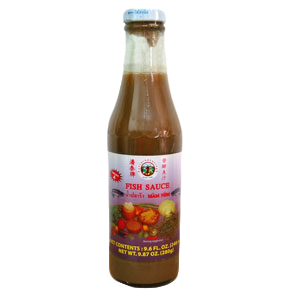 Highly popular in the Isaan province of Thailand, Nam Pla Rah Fish Sauce is very frequently added to Som Tam (Green Papaya Salad) in order to give it a unique taste. In Northeastern Thai cuisine, however, Pla Rah is an essential ingredient in nearly every recipe that originated from that area (hot pots, bamboo curry, and spicy minced pork, to name but a few).
In the preparation of Pla Rah fish sauce, mud fish is pickled, cleaned, and then diced up with salt and rice bran. Once mixed, the fish is then carefully fermented until producing the desired consistency and flavor. To Westerners, this process of fermenting may seem very odd and even unhealthy though in actual fact nam plah rah is perfectly good for you. The use of nam pla rah is a distinctly Thai practice - mastering the use of this ingredient will open up a whole new range of Thai cuisine that is not frequently celebrated outside of Isaan.
NOTE: This is not a regular type of fish sauce for cooking. For fish sauce that is more commonly used in Thai recipes please see Thai Sauces
Ingredients: Gouramy fish extract, salt, water and rice powder. Product of Thailand.
Availability: Ships in 2-3 business days from Los Angeles, California.
Category: Sauces & Vinegar, Pok Pok Ingredients
SKU: 5110000509