Coconut Cream Coated Peanuts

,

Koh-Kae

, 9.6 oz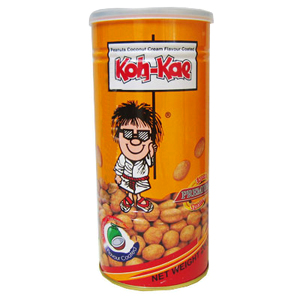 For over 30 years, Koh-Kae has been the largest producer and exporter of snack foods in the Thailand and is a well established household name. Each cylindrical container is filled with Koh Kae's star product: peanuts covered in creamy coconut flavoured shells. A common sight at picnics, parties, and even in school lunch boxes, Koh kae peanuts are perhaps Thailand's single most favourite off-the-shelf snacks.
Interestingly, Koh Kae peanuts originated in the early sixties when a small family started selling individual heat-sealed bags of their new peanut recipe for less than 3 cents a piece.
Koh Kae are well known for placing great importance on hygiene and all of their products are very carefully examined before leaving the factory. Nowadays, modern packaging technologies are used to ensure lasting freshness. "Koh Kae", which is also the name of the company's mascot, literally means "a wild cool man"!
Also see Shrimp Crackers, Baked Cuttlefish, Prawn Crackers and Crispy Seaweed Snack.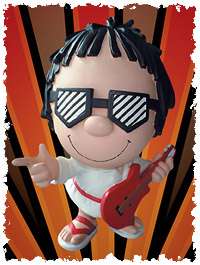 Ingredients: Peanut, coconut, wheat flour, salt, sugar, vegetable oil and coconut cream. Product of Thailand.
Availability: Ships in 2-3 business days from Los Angeles, California.
Category: Asian Snacks
SKU: 4700000486