Best Oolong Tea (Whole Leaf)

,

Tradition

, 2.0 oz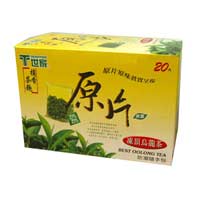 Oolong Tea originally imported from Taiwan is the best tea which well-sealed in good quality package. This kind of tea is healthy drink popular among Chinese people.
Nowadays, beside Chinese, Oolong tea is well know for people who need healthy drink all over the world. Moreover, Taiwan is one of the best place for Oolong tea growing area. So, it can be said that if you would like to drink real and best flavor Oolong tea, Oolong tea from Taiwan is the best recommendation.
Oolong tea from Tradition brand is imported from Taiwan. One package is consisted of 20 small tea bags.
Also see Green Tea with Roasted Brown Rice, Miyako Japanese Green Tea (loose tea) and Black Beans with Matcha (Green Tea).
Ingredients: Oolong tea leaves. Product of Taiwan.
Availability: Ships in 2-3 business days from Los Angeles, California.
Category: Beverages
SKU: 3100000553