Green Tea with Roasted Brown Rice

,

Yama Moto Yama

, 3.2 oz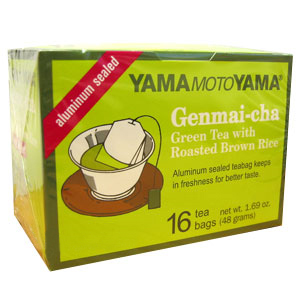 Also known as Genmai-cha, Green Tea with Roasted Brown Rice is another healthy and delicious product from Yamamotoyama. Containing absolutely no preservatives or additives, Yamamotoyama teas are 100% pure and natural. All sixteen tea bags are hermetically sealed to ensure long-lasting freshness whilst also preserving the delicate flavours contained within them. Genmai-cha's distinctive mix of flavors and aromas make it an ideal choice for a relaxing drink at the end of a long day. For best results, steep one of the Genmai-cha tea bags for no longer than three minutes depending upon your taste.
Also see Thai Tea, Mulberry Tea, Guava Leaves Tea and Lemongrass Tea.
Ingredients: Green tea and roasted brown rice. Product of USA.
Availability: Ships in 2-3 business days from Los Angeles, California.
Category: Beverages
SKU: 3100000485