Guava Leaves Tea

,

ABC Tea House

, 2 oz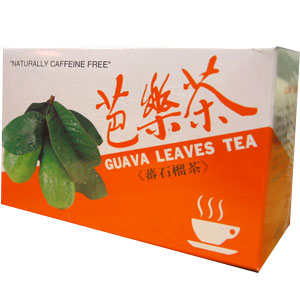 Guava Leaves Tea is an ABC Tea House product which is naturally caffeine free. Guava leaves have gained a great deal of popularity in recent years due to containing high levels of antioxidants. They can thus be used to help prevent and repair cell damage and to slow the aging process as well as age-related diseases such as Alzheimer's. Particularly popular in China, guava leaf herbal drinks have also been used around the world for treating diarrhea, dysentery, and fever. It is also believed guava leaves can aid weight loss by preventing starch from converting into sugar. Over the past few decades, guava leaves have been the subject of a great deal of scientific research. Many scientists are now convinced that guava leaves possess even more health benefits including the ability to fight bacterial infections, inflammations, cancer, pain, and diabetes.
Also see Lemongrass Tea, Mulberry Tea and Green Tea with Roasted Brown Rice.
Ingredients: 100% pure guava leaves
Availability: Ships in 2-3 business days from Los Angeles, California.
Category: Beverages
SKU: 3100000486