Vietnamese Coffee

,

Trung Nguyen

, 1.1 lbs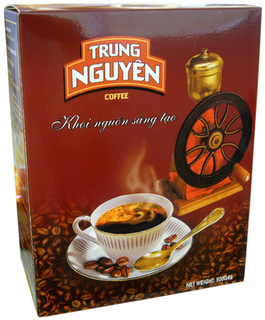 Vietnamese Coffee from the famous Trung Nguyen company, the premier producer of Vietnam's finest locally owned and processed coffees. Grown in the ideal conditions of the Vietnamese highlands, Trung Nguyen puts together carefully selected Culi (unsplit 'pea-beans') from 4 different varieties: Arabica, Robusta, Cherry and Catimor to create a is a strongly flavored coffee.
Vietnam is one of the world's largest producers of coffee, second only to Brazil. Coffee cultivation in Southeast Asia dates back to Dutch and French colonialism in the 18th and 19th centuries. Around 1890 the French established a thriving coffee industry in several locations of the Annam Region, a mountainous plateau that extends through several countries.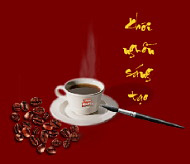 Today Trung Nguyen has established a network of more than 1000 company-owned or franchised shops in a number of countries, including Vietnam, causing some to remark it is the 'Starbucks of the East'. Trung Nguyên coffees are fairly traded, certified UTZ CERTIFIED (safe & sustainable agriculture) coffees brought to market directly by the producers.
To prepare Vietnamese Coffee, brew in a French Press or more traditionally the Vietnamese Coffee Filter (known as a phin). The French, or Coffee Press, typically brews 3-6 cups of coffee and results in a slightly different taste from the Phin filter, but captures the essence of the coffee better than an electric drip brewer. Add Sweetened Condensed Milk to taste.
Watch a video about how to make Vietnamese Iced Coffee:
Ingredients: Ground Arabica, Robusta, Cherry, and Catimor coffee beans. Product of Vietnam.
Availability: Ships in 2-3 business days from Los Angeles, California.
Category: Beverages
SKU: 3100000366