Sweet Condensed Milk

,

Black & White

, 14 fl oz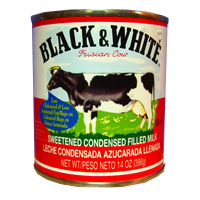 Add Sweetened Condensed Milk to your Thai Iced Coffee, Thai Iced Tea, and hot instant coffee to enjoy these beverages the Thai way. In the old American wild West this type of milk was referred to as canned cow and was also popular served with coffee and fried yeast breads and flapjacks.
Canned milk became popular in Thailand when refrigeration was not yet widespread and has remained so even though now most homes have a refrigerator. In Thailand it is often served with fried yeast donuts (called pa thong ko in Thai).
See Thai Coffee and Thai Tea.
Ingredients: Concentrated skim milk, sugar, partially hydrogenated soybean oil, vitamin A palmitate and riboflavin. Product of Thailand.
Availability: Ships in 2-3 business days from Los Angeles, California.
Category: Beverages
SKU: 4450001113