Thai Donut

,

Tippy

, 17.6 oz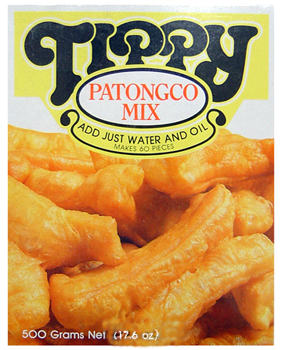 Pa Thong Ko (also known as yao char kuay or Chinese Crullers) are yummy Thai donuts. In Thailand street vendors sell these at dawn and in the evening with syrupy sweet Thai coffee. Dipped in Sweetened Condensed Milk or Green Pandan Sauce these little fried breads are devilishly delicious hot out of the wok.
Use this ready-made Patongco Mix from Tippy brand to quickly prepare. Just add oil and water to the mix. Complete recipe is given on the box.
Quick Cake Doughnuts
Beat 3 eggs with 1 cup sugar until frothy. Add 1 package Patongco Mix, 1/3 cup margarine and 1/3 cup water. Mix, with a wooden spoon. Knead dough until smooth. Roll out dough with a rolling pin to 1 cm thick. Cover with a damp cloth and allow to stand for about 20 minutes. Meanwhile, heat enough oil in a wok for deep fat frying. Cut dough with doughnut cutter. Fry both sides in preheated oil until golden brown. Place cooked doughnuts on tissue to drain away excess oil. Roll in sugar. Serve hot. Makes about 20 doughnuts. Dough Mixer Method is printed on the Package.
Ingredients: Wheat flour, sugar, baking soda, phosphates, salt and sodium stearoyl lactylate (organic compound used as a emulsifier). Product of Thailand.
Availability: Ships in 2-3 business days from Los Angeles, California.
Category: Flour & Sugar
SKU: 1250000422