Bamboo Shoots Strips in Water

,

Chaokoh

, 20 oz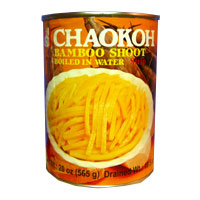 Bamboo Shoots Strips (naw my in Thai) have a mild taste and crispy texture, with a chameleon-like ability to absorb seasonings. Rinse bamboo slices in water and drain before adding to soups and stir-fries.
Bamboo shoots are the ivory-colored shoots from young bamboo plants. In Thailand bamboo shoots are a creamy pale yellow color when fresh and are a favorite addition to salads, coconut-based soups and curry dishes.
Chaokoh brand bamboo shoots are much better than your average local supermarket brands, so be sure to stock up.
To store, transfer to a tightly sealed glass or plastic container and refrigerate.
See a recipe for Red Curry with Chicken & Bamboo Shoots (Gaeng Phed Kai Sai Nawmai).
Ingredients: Bamboo shoots and water. Product of Thailand.
Availability: Ships in 2-3 business days from Los Angeles, California.
Category: Canned Food
SKU: 4221130174