Pla Rah Thai Chili Paste

,

AC

, 4.0 oz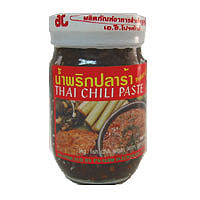 Pla Rah is an essential ingredient in nearly every recipe that originates from Northeastern Thai cuisine (the Isan region). Mud fish is fermented for a long period of time resulting in a very odorous, strong paste called pla rah. Pla Rah Thai Chili Paste is served with both fresh vegetable and cooked vegetable.
Also see Maeng Da Chili Paste, Narok Chili Paste and Pla Tu Chili Paste.
Ingredients: Fish, chili, sugar, onion, garlic and lemon grass. Product of Thailand.
Availability: Ships in 2-3 business days from Los Angeles, California.
Category: Chili Pastes
SKU: 5533300890