Red Curry Paste, Mae Ploy (6pkg)

,

Mae Ploy

, 14 oz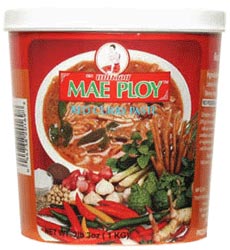 Red Curry is said to be the most commonly eaten curry in Thailand. Cook this prepared curry paste with canned coconut milk, pork, chicken, or tofu for curry in a hurry. Garnish with cilantro if desired and serve over steamed jasmine rice. You can prepare this meal in less than 30 minutes! Once opened, close tightly and refrigerate up to one year.
See a recipe for Red Curry and Chicken & Pumpkin.
Ingredients: Dried red chili, garlic, lemon grass, salt, shallot, galanga, shrimp paste, kaffir lime peel, and pepper. Product of Thailand.
Availability: Ships in 2-3 business days from Los Angeles, California.
Category: Curry Paste, Wholesale
SKU: 2110000823