Thai Rice Flour Custard (Ta Ko)

,

Madame Pum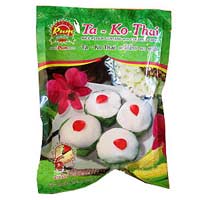 Thai Rice Flour Custard (called Ta Ko) is Thai style white custard mainly made from rice flour. Ready to made rice flour from Madam Pum is another selection of easy way to prepare how to make Ta Ko. Normally, people put prepared flour in small square Krathong (cup) made of pandanus leaf to create a good scent and steam until it turns out like white soft custard. The taste is sweet and creamy. This kind of dessert can be found vary and also good to eat as dessert in any Thai ceremonies or even a family party.
Also see other products from Madam Pum brand : Tub Tim Krob, Instant Tapioca Pearl with Mango and Tapioca Pearl and Sweet Corn.
Ingredients: Sugar, rice flour, coconut powder, tapioca starch, dehydrated corn and salt. Product of Thailand.
Availability: Ships in 2-3 business days from Los Angeles, California.
Category: Flour & Sugar
SKU: 1250000585