Frozen Pandanus Leaf (Pandan Leaves)

,

Imported from Thailand

, 8.0 oz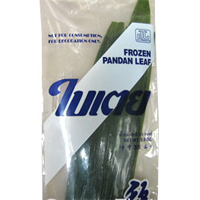 PLEASE READ OUR TERMS OF SHIPPING BEFORE ORDERING THIS PRODUCT.
Pandanus leaf (ใบเตย bai toey in Thai, pandan leaves or pandanus odorus) is a lanceolate, bright green leaf of a small palm commonly used in dessert recipes in Thailand and some savory dishes. Like banana leaves, pandanus leaves can be used to wrap foods like chicken to impart a subtle, natural flavor.
With a sweet aroma it is used both for its smell and beautiful green color. Puree the leaves and squeeze to extract the green color for making Thai sweets (kanom). Thailand's equivalent to vanilla flavoring, this narrow, long leaf is also known as dteuy hohm, bai toey or screwpine leaf. Pandanus has an earthy fragrance and taste and is most often added to coconut milk based sweets. To lightly flavor drinking water, try boiling pandan leaf in water, straining and chilling for a refreshing drink on a hot day.
In other parts of Southeast Asia, pandanus leaf are used in savory dishes. In Sri Lanka, pandanus is known as rampe and is an ingredient in many dishes including biriyanis and curry.
Also see Artificial Bai Toey Flavoring and Thai Custard Mix Pandan Flavor.
PLEASE READ OUR TERMS OF SHIPPING BEFORE ORDERING THIS PRODUCT.
Ingredients: Pandanus leaves. Product of Thailand.
Availability: Ships in 2-3 business days from Los Angeles, California.
Category: Pok Pok Ingredients, Fresh Produce
SKU: 1000000274