Pandanus (Bai Toey) Flavor

,

Koepoe-Koepoe

, 2 fl oz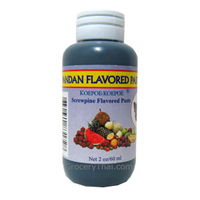 The Pandanus plant has deep green long narrow leaves with a sweet aroma and it is used in cooking for its color and fragrance in Thai desserts. The fresh leaves are pureed and squeezed to obtain a beautiful green liquid used in many Thai desserts. As it is difficult to procure fresh pandanus in the West, pandanus leaf essence is a practical substitute (or try Frozen Pandanus Leaf).
Also called dteuy hohm, bai toey or screwpine leaf flavoring, it is Thailand's equivalent to vanilla flavoring. Pandanus has an earthy fragrance and taste and is usually added to coconut milk based sweets. This artificial flavoring makes it easy to obtain this exotic taste for your Thai cooking.
Use this Indonesian Pandan Flavored Paste for baking. Koepoe-Koepoe brand is a high-quality aroma paste for home baking with a smooth taste and delicious smell, which will bring out the best in your bread and cake recipes.
See a recipe for Coconut Cake using Pandanus flavoring. Also see Frozen Pandanus Leaves.
Ingredients: Pandan flavour, water and color. Product of Thailand.
Availability: Ships in 2-3 business days from Los Angeles, California.
Category: Flour & Sugar
SKU: 5620381125