Rice Flake Noodles (Triangle Noodles)

,

Product of Thailand

, 8 oz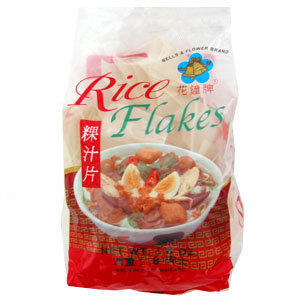 Triangle-shaped Rice Flake Noodles (
sen guay chap
in Thai) are great in Pad Kee Mao recipes, Pad Thai, or other Thai fried noodles dishes. Most often these noodles feature in a Chinese-style pork soup spiced with Five Spice powder (which includes cinnamon stick and star anise) and boiled eggs, called
Guay Jup
Rice flakes are made of rice that has been parboiled, rolled, flattened, and dried. Basically these noodles are the same as our Rice Noodles, just cut into a different shape, to add a unique texture.
To prepare, pre-soak the opaque brittle noodles in warm water for 40 minutes to an hour. Drain the softened noodles, before frying or adding to soups.
Rice noodles should be considered for inclusion in a gluten-free diet.
To store noodles keep in a cool dry place in an airtight container. Use all types of noodles within one year of purchase. Rice noodles should be a stock item in your pantry.
Ingredients: Rice flour and water. Product of Thailand.
Availability: Ships in 2-3 business days from Los Angeles, California.
Category: Noodles
SKU: 3510000187