Pho Sen Lek Instant Noodles (30 pkg)

,

MAMA

, 6x1.93 oz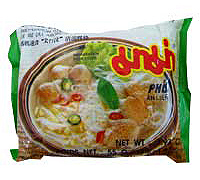 Pho Sen Lek Instant Noodles from Mama brand Thailand has the flavor of Vietnamese soup known as pho. Buy in bulk and save.
Pho is a popular Vietnamese noodle soup which is served with fresh basil, bean sprouts and garnished with chopped green onions. To make simply pour boiling water over the noodles and let sit for 3-5 minutes before eating.
You can also add thin slices of beef or cooked chicken or pork. For a spicy taste, add the hot and spicy soup paste packet. This clear soup will give you a taste like the famous Vietnamese noodle soup in minutes
Also see Mama Pho Sen Lek (5 Cts), Mama Noodles Pork, and Mama Noodles Shrimp Tom Yum.
Ingredients: Flour, palm oil, salt, chili powder, garlic powder, MSG. Product of Thailand.
Availability: Ships in 2-3 business days from Los Angeles, California.
Category: Noodles
SKU: 1900000807