Fried Clarias Fish w/ Chili

,

Smiling Fish (Pla Yim)

, 3.0 oz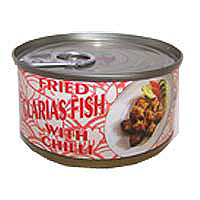 Fried Clarias from Smiling brand is fried fish seasoned with chili, sugar and soy sauce. This fried fish is suitable for any kind if food as you prefer especially cooked rice or rice soup.
However, Clarias fish is one kind of catfish which can be cooked various dishes like grilling with Thai herbal, catfish curry, or even deep fried shredded catfish with spicy salad (Yum Pla Duk Foo).
Also see Fried (Grinner) Fish with Chili and Fried White Scale Fish.
Ingredients: Fried clarias fish, soy sauce, chili and sugar. Product of Thailand.
Availability: Ships in 2-3 business days from Los Angeles, California.
Category: Pickled & Preserved
SKU: 3600000581