Fried Pork Rind

,

Product of USA

, 3.5 oz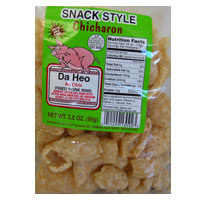 Fried pork rind, skin or pork cracklings (แคบหมู kaep moo in Thai) is a popular snack in Northern Thailand, especially in Chiang Mai. It is available ready-made throughout the North of Thailand in open markets and is often purchased in large quantities as a gift to be brought back home.
Commercial vendors prepare salted pork rind by deep frying in hot oil until is puffs up and becomes crispy and light. In Thailand there are in fact two types of Kaeb Moo - with only the pork skin or including the layers of fat, for those not concerned about cholesterol!
Kaep Moo is served most often with a type of Northern chili paste, nam phrik ong (chili paste with minced pork and tomatoes) and features as part of a traditional khantok meal, alongside sticky rice. The method of eating is to take the rind with a small ball of sticky rice and dip it into the chili paste. Kaep moo is also sometimes served with khanom jeen noodles in the North.
Ingredients: Pork skin, salt and oil. Product of USA.
Availability: Ships in 2-3 business days from Los Angeles, California.
Category: Pok Pok Ingredients, Pickled & Preserved
SKU: 3000000435