Chinese Pickled Plum

,

Koon Chun

, 12.0 oz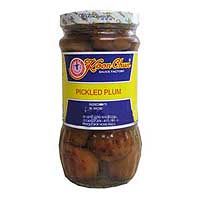 Chinese pickled plum is suitable for many Asian dishes like steamed fish and soups. Some recipes also recommend to use pickled plum for making dipping sauces for appetizers like spring roll and crispy shrimp cakes. Pickled plum adds a delicious sweet and sour taste.
Also see Pickled Lemon and Plum Sauce. Learn how to cook Steamed Fish in Plum Sauce with the SITCA Learn to Cook Thai DVD series, available in our cookbook section.
Ingredients: Plum, water, and salt. Product of Hong Kong.
Availability: Ships in 2-3 business days from Los Angeles, California.
Category: Pickled & Preserved
SKU: 5300000574