Chinese Preserved Mustard (Ga Na Chai)

,

Product of China

, 6.3 oz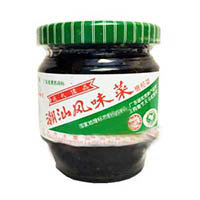 Preserved Mustard (ga na chai in Chinese), a type of traditional Chinese pickled vegetable, is usually eaten with rice soup, steamed rice or added to vegetarian stir-fry dishes. Dried mustard leaves are combined with Chinese olives in oil to prepare this unique paste. Ga-na is an olive-like Chinese fruit (not the same as Western olives) and the word chai means vegetable in Chinese.
Also see Pickled Mustard Green and Pickled Hot and Sour Mustard Green.
Ingredients: Mustard, Soy bean oil, olive, salt and msg. Product of China.
Availability: Ships in 2-3 business days from Los Angeles, California.
Category: Pickled & Preserved
SKU: 5300000696