Thai Chicken Sausage

,

Champ

, 10.0 oz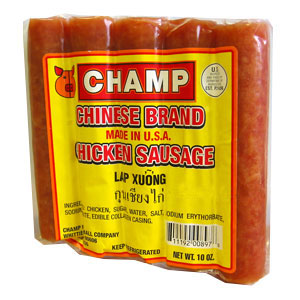 Thai Chicken Sausage (Goon Chiang Gai) is a Thai-style sweet chicken sausage made from high quality chicken. It may be simply fried or grilled and served with rice soup or steamed jasmine rice.
Also see Thai Chinese Sweet Sausage (Pork).
Ingredients: Chicken, sugar, water, salt, sodium nitrate, sodium erythorbate and edible collagen sausage casing. Product of USA.
Availability: Ships in 2-3 business days from Los Angeles, California.
Category: Pickled & Preserved
SKU: 2800000742