Brown Jasmine Rice

,

Imported from Thailand

, 5 lbs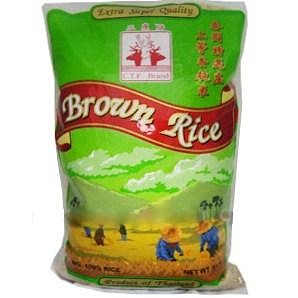 Brown jasmine rice is unpolished, making it high in vitamins, minerals and fiber. When cooked brown jasmine rice is light brown in color with a sweet nutty flavor adn delicious chewy texture.
Most Thais still prefer polished jasmine rice, but today with increasing concerns about health, brown rice is becoming more popular in Thailand. It is especially appreciated when cooked as kao dtohm, boiled rice soup, served for breakfast. Brown Jasmine Rice can also be combined with Red Cargo Rice in equal proportions and cooked together.
Brown rice requires longer cooking time then white polished rice. To cut down on cooking time and increase the health benefits, pre-soak at least four hours or overnight in plenty of water to cover. Brown jasmine rice could also be used as a substitute in recipes calling for brown basmati rice.
To store all types of rice should be stored in a cool dry place in the original packaging until opened. Transfer to an airtight container once opened. Use all types of rice within one year of purchase.
Also see (5lb) Jasmine Rice and Red Cargo Rice.
Ingredients: Brown jasmine rice. Product of Thailand.
Availability: Ships in 2-3 business days from Los Angeles, California.
Category: Rice
SKU: 1111310165