(25lb) Jasmine Rice

,

Imported from Thailand

, 25 lbs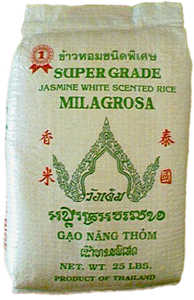 Jasmine rice (also known as fragrant rice, scented rice and aromatic rice) is a medium-sized grain rice which is world famous for its wonderful almost floral aroma when cooked. This type of rice is non-glutinous and is called khao jao in Thai when uncooked. It is the staple food of Central and Southern Thailand. The uncooked grains are translucent, but when cooked, become opaque, white, and fluffy.
Jasmine rice is easy to digest because the starch is easily converted into glycogen which fuels muscles. White rice has B vitamins and some protein, a small amount of phosphorous, zinc, selenium, copper, iodine, and fiber. It is salt-free and also has no extrinsic sugar (which causes tooth decay).
To store all types of rice should be stored in a cool dry place in the original packaging until opened. Transfer to an airtight container once opened. Use all types of rice within one year of purchase.
Also see (5lb) Jasmine Rice and Brown Jasmine Rice.
Ingredients: Imported Thai jasmine rice. Product of Thailand.
Availability: Ships in 2-3 business days from Los Angeles, California.
Category: Rice
SKU: 1121203031